OVER 12 WEEKS, HERE'S WHAT YOU'LL BE IMPLEMENTING WITH MARISA:
MODULE 1: YOUR LIGHTBULB MOMENT
In Module 1, you'll focus on:
Choosing your product so it becomes the most lucrative offer you can make at this particular time in your business, the product that will allow you to make the greatest impact while delivering you the highest profits, in the easiest way possible.

Creating your own personalized "Idea to Market Blueprint" so that you know exactly which steps you'll need to take, and when to take them. Not knowing the right actions is a HUGE reason people procrastinate and take months to make even simple progress.

Two marketing techniques that are vital for you to understand as you create the foundation for your product. Both will prevent you from spending a lot of time working on something people don't really want to buy, and help you hone in with certainty on the right product for you to create, around what your customers actually want and need to achieve the result they most desire.
---
MODULE 2: NAILING YOUR OFFER
Once you choose the type of product you want to create... it doesn't matter how good your product is if you can't get people to buy! That's why we start with creating the strongest marketing message and positioning possible, before you even create your product.
In other words, how can you make your product so irresistible that people can't help but say yes?
In this Module, we'll work to:
Develop the aspects of your offer that are proven to get more and more people to say yes, like bonuses, social proof, and real urgency.

Craft a compelling Future Self, 1-sentence Product Mission, and Product Origin Story so your prospects instantly get why they should buy your offer.

Workshop your visual brand so you can stand out, grab attention, and exude authority and credibility from the second people land on your page.

Plug into the Experience Product naming templates to bust out your blockbuster product name.
---
MODULE 3: CRAFTING THE PERFECT EXPERIENCE
This Module is centered around the anti-perfectionist "Earn While You Learn" method of product creation... so you don't have to create a lot of videos, PDFs, and other assets right off the bat (unless you want to).
In this Module:
Discover 12 different "Rapid Product Creation" strategies... so that you can choose the ones that work best for your business, your offer, and your style. Using these, you should be able to complete the blueprint for your Experience Product in less than 2 weeks.

Learn how to collaborate with your customers, students, and clients during the process. You'll know what they don't understand, what they struggle with, and what's not working for them because they'll tell you so, which means you're guaranteed to end up with the best product for them, NOT the product you think is best for them.

Create your Experience Escalation Plan -- This is where we integrate the 10 Core Experiences into your product. We'll create your big picture outline for how to draw your customers & students into your Experience Product the right way.
---
MODULE 4: EXPERIENCE MARKETING ESSENTIALS
This is when you rock out your first Experience Marketing campaign designed to fill your Experience Product, Program, Course or 1-on-1 coaching, consulting, or service offer.
In this Module, we'll cover:
The 6 main Experience Marketing campaigns that are proven to work for a wide range of business models and industries. (Note: four of these will cost you nothing to implement, so you won't need to spend a ton of money on advertising.)

How to choose the right marketing campaign (or campaigns) for your business model and stage of business. And once you get it rolling, how to use the Power of 1.1, where your customers start selling your products FOR you, so you can market less while still growing your business.

Why "Experience Marketing" helps you stand out in a powerful, unique, fun, fresh, and engaging way to your ideal customers, which is MORE than half the battle in today's noisy marketplace.

Marisa's suggestions, templates, and scripts... basically everything you need for a complete and unique-to-you Experience Marketing campaign designed to bring you all the clients you can handle.
---
MODULE 5: DELIVER THE WOW
In this Module, we'll cover:
How to deliver an unforgettable Experience Product that keeps your customers engaged and getting results.

The key elements to creating the "warm snuggy blanket" that makes your Experience Product such a great experience and creates a mass of raving fans who will achieve incredible results.

How to create an Experience that engages ALL your students, clients and customers immediately and keeps them engaged until the end of your program -- MAXIMIZING the chances of their success, and repeat purchases.
---
And You Get These
Amazing Bonuses

For Free!
Bonus #1:

WEEKLY GROUP COACHING

You'll have someone to answer your questions LIVE, 3 times a week throughout the program.

This means that you're never left stuck and frustrated if you hit an obstacle, or need clarification on something... and you don't have to lose momentum.
MONDAYS WITH MARISA
90-minute dedicated group laser coaching calls with Marisa where she's been known to add literally hundreds of thousands of dollars to people's bottom line in a matter of minutes. :)
WISDOM WEDNESDAYS:
90-minute group coaching calls in smaller coaching pods with your Experience Product Success Coach. We do these sessions at 6 different times over a 15-hour window to accommodate all time zones. You're matched with a coach based on a time you can regularly commit to.
IMPLEMENTATION FRIDAYS:
90-minute workshops with elite coaches on anything you need to know to move forward in the program, whether creating quizzes, booking appointments, or anything in between - you'll be covered.
NOTE: You don't have to attend EVERYTHING live, in fact, I strongly recommend you don't. You can work at your own pace. But Marisa has put this coaching schedule into place so you can know that you'll have access to help and support WHENEVER you need it.
WISDOM WEDNESDAYS IN SEVERAL TIME ZONES!
Value: $7500
Bonus #2:

ONE-ON-ONE COACHING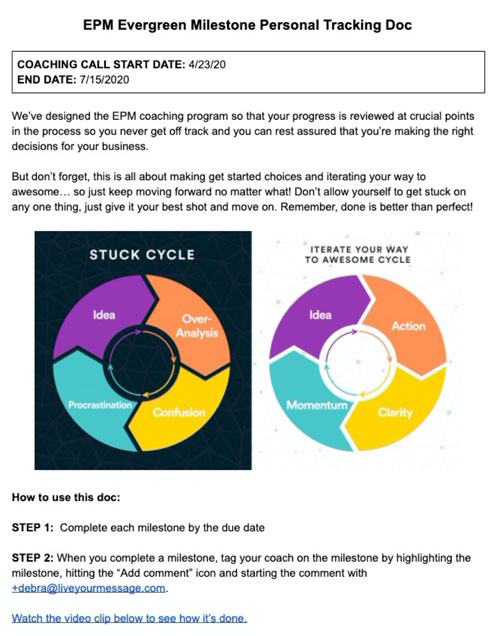 First, you'll have unlimited access to your coach's personal email inbox. Shoot them an email anytime day or night and get a personal response back, within 48 hours.
The benefit of having an expert at the other end of your email is frankly priceless. This kind of access to expert coaching is unheard of at this pricepoint, and I'm not sure if it'll ever be offered again.
Second, you'll get feedback on your decisions at the most critical points in the program, so you can feel confident you're going in the right direction and not making any big mistakes. Just enter each week's progress into your own personal EPM "diary" page that will be created for you on Google Docs, and tag your coach in a simple way to alert them.
Within 48 hours you'll have personal feedback from them specifically on the decision you just made -- whether it's the product type, name, pricepoint, mission, or any of the other key elements related to your product.
I had to save the best for last. The added coaching sessions have been amazing and Coach Domonique in particular was a key factor in my success. Having her to bounce ideas off of, to let me know if I was on track or not clearly showing my passion, and reinforcing that I had something of value to offer, was soooo helpful.
Carol Walsh
A special thanks to Debra Lindegren for your relentless willingness to support and find solutions to any challenge - it's been GREATLY appreciated and you are a FREAKING ROCKSTAR! #coachdebra
Daniel Rial
Thankfully we had the guidance of a coach - Kataka was amazing at helping me keep focused and in line. Any time I felt i was on the verge of giving up I would have a coaching session with her and get straight back on track
Kate Wan
I had some major crisis of confidence throughout the program and my coach was there to talk me through them and refocus meon moving forward and not getting stuck.
Cindy Wagman
I'm so appreciative of the wisdom and guidance provided by coach Mike! That was also an amazing part of this program... having contact with a real person to help.
Gladys Marie Clancy
Value: $5500
Bonus #3:

SALES FOR SUPERHEROES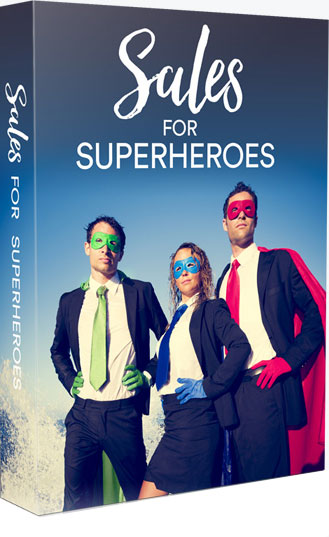 Getting ninja at one-on-one selling is the fastest and easiest way to hit Mission Accomplished thanks to the CRITICAL real-world feedback you'll receive on what people really think of your Experience Product.
This 3-module crash course will transform you into a selling ninja, without feeling "salesy," pushy, or slimy in any way. Imagine your sales conversations as positive experiences where your prospects feel like they got the better end of the bargain, and are excited to give you their credit card.
This bonus course will guide you step-by-step through your enrollment conversations, with everything you need to get prospective clients to say YES!
Using techniques I learned in the sales for superheros Bonus I was able to close a one on one client for $3,500.
Holly Gillen
First sale for $997! Halfway to mission accomplished!! #superpod The sales for superheros script REALLY WORKS!!
Rachel Estone Theriot
I sold two packages. One 12k one 10k + 3000 payment. The sales for superheroes script is totally responsible for these wins...I LITERALLY read from my video notes because I wasn't sure how to say it all....well...it works!
lani dickinson
After I joined EPM, just *one* use of the "sales for superheroes" enrollment conversation led to closing my next $9,997 program in four weeks
Judy Bradt
Value: $997
Bonus #4:

2 TICKETS TO LIVE YOUR MESSAGE LIVE

Launching your profitable Experience Product will be only the beginning of what's possible in your business.

Live Your Message Live picks up where EPM stops, and you'll spend 3 days working with Marisa and her team on your entire online business. This is the 9th annual live event, and for the first time ever, it will be done digitally, so you can attend from the comfort and safety of your own home! Together with Maria and her team, you'll identify and craft your personal marketing message, create an entire experience product suite that has people wanting more, and the business and marketing plans to make it happen.

If you think working with Marisa in EPM will be powerful, just wait until you see what you'll take away after attending this event with her to work on your business for 3 solid days!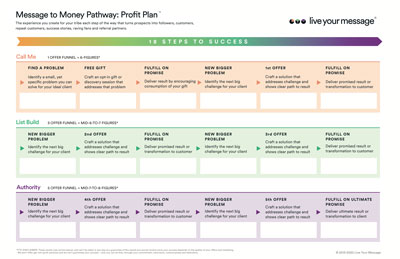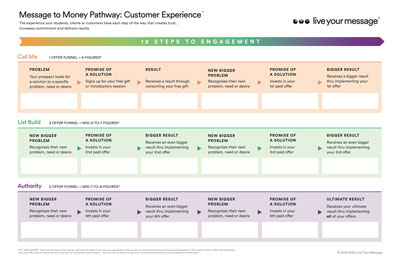 Note: you'll be required to pay a small $100 fee so that Marisa can send you a box with the physical materials you will use during the event, plus some other goodies!
Value: $1994
Bonus #5:

3 Months of Xperiencify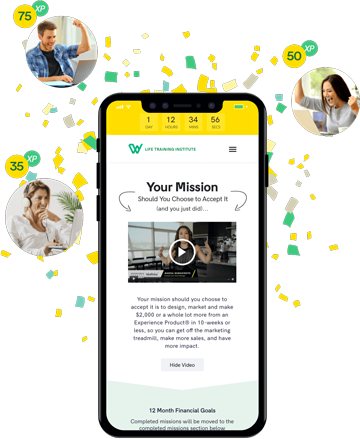 Xperiencify is the secret weapon.
After years of recommending other membership site platforms, and being disappointed that none of them ever understood what Marisa was trying to achieve, Marisa and team finally decided to build it themselves.
This is the perfect course delivery platform for Experience Products.
It comes complete with all the experiencification you've heard about in our training, and dozens of other features that will help you powerfully engage and motivate 10-30 times more students to take action, get results, and become repeat customers.

With Xperiencify you get...
You'll get a free 3 month Growth Account with Xperiencify when you join EPM.
Value: $447
Bonus #6:

The $10 Million Dollar Evergreen Secret

Earlier this year I, Jason Fladlien, did a private coachathon to Marisa's top promotional partners who have referred the most sales of EPM.

The subject was on how to webinars - specifically how to do evergreen, automated webinars. And I was on fire that day.

For a whole afteroon on Zoom I revealed every automated webinar secret I have used to sell over a hundred million dollar of products online.

This product was never supposed to be shown outside of the tight group of top partners I did it for. However, I went back to Marisa and negotiated a deal so that I could have the rights to share it with EPM customers who invest via this page.

This training is fresh and so far has only been seen by 16 people - all of them run seven figure businesses. It's the perfect way to promote your Experience Products.

Value: $997
Bonus #7:

THE ULTIMATE EPM TRAFFIC METHOD

You'll be invited to a live, private Zoom training where I, Jason Fladlien, will show you the very best method to drive traffic to Experience Products you create.

This training is specifically designed to take advantage of a traffic hack only possible for EPM customers. No one in the world has been shown this before, including any prior EPM customers.

Not only can you attend this training live, you also get access to the recording, too - which will be automatically sent to the email you sign up for EPM with.

Value: $1500
Bonus #8:

3 Laser Coachathon Sessions With Marisa

There are scheduled "breaks" in EPM training weeks on Thanksgiving, Christmas and New Year. It's a great time to take a rest if you wish - but you don't have to.

Enter Marisa's coach-a-thon sessions. She'll personally host three 3-hour live sessions. You can even qualify to get a one-on-one "hot seat" session on these calls - where she will give you personal input, feedback, coaching, and advice to help you succeed.

Regardless, you'll watch Marisa apply her world class coaching prowess in a way that will take your success to the next level - and you get access to the recordings of these trainings, too!

Value: $2500
Bonus #9:

DONE FOR YOU! Your Experience Product Set Up Inside Xperiencify For You

This is the mother of all bonuses.

You're going to get your membership site built for you. You just map it out, plan and create your product and Marisa's team will build it out for you in Xperiencify.

Just provide your course materials within one year of the end of EPM and you'll get your full course set up for you in Xperiencify.

We value this bonus at $5,000 because of the incredible value and peace of mind it gives you, as well as all the benefits that come with massive student success, including radically less refunds and radically more repeat sales and referrals.

Value: $5000

We generated $47,413.46 in revenue through our new product
Because of the program I created in EPM, I was able to take two women to Italy with me, fulfilling my goal for the year. I have several more women signed up for the next retreat. My program is growing and if all goes well, I will start doing this twice a year!
"We generated $47,413.46 in revenue through our new product in just a few short weeks, and our launch still has 2 weeks to decision day on December 6th!"
Jeanne Luke
from the start of EPM to today, is $270,000
"Within the 8-week period of EPM we made $64,000 and at the end of that launch -- so outside the 10 weeks -- we made a little over $100,000. To date we've run two more classes on top of the first class we created with EPM, totalling our entire income from the start of EPM to today, is $270,000."
Davina & Galen Detrik
have 22 so far at $297 each! That's over $6,500
Marisa was my last attempt! I gave EPM a try and OMG... I am so glad I did! I cannot begin to tell you how truly amazing this course has been for me. It is EVERYTHING I ever wanted to know... and MORE! EPM leaves no stone unturned. All you need to know is in this course, plus the downloads are priceless.
I offered a Beta price to the first 25 participants and have 22 so far at $297 each! That's over $6,500!
Troika Saint Germain

"we Had Our First $100,000 Launch!"
Before EPM my biggest launch was under $20,000. I was scraping by from launch to launch. I was always rushed and in scarcity mode. After making just a few tweaks I learned from EPM we had our first $100,000 launch.
Kit Volcano

"my Coach Gave Me An Extra $10,000 Idea!"
"Not only did I reach Mission Accomplished ($6,235 so far)... but I did it with ease and without building a website, sales page or anything fancy or technical at all. My coach was responsible for giving me an extra $10,000 idea!"
Christopher Pickard
I've made $2,065 in the process!
EPM has changed my life. I found new confidence in myself and my abilities. I'm not only creating a class that has a small tribe waiting for me to launch, I have a BUSINESS! In the past 10 weeks, my confidence level has gone through the roof because I CAN DO THIS! I can build a business, I can create courses that will help people, I can market without feeling sleazy because people want to hear my message.
It was an empowering 10 weeks AND I've made $2,065 in the process! I'm in control of my life, I'm confident and happy and I owe it all to Marisa and EPM!!!"
Patricia Lemieux

I reached my minimum goal and surpassed it with $2,485!
"EPM has been the single most engaging educational event I have ever experienced in my life. Marisa over delivered on the knowledge and information she so generously shared with us.
The results for me have been nothing short of amazing. Even though I haven't started my marketing yet, five couples have committed to my upcoming offering. I reached my minimum goal and surpassed it with $2,485! Yea! I am so excited to see how just one marketing campaign generated my five couples without even implementing two other marketing campaigns Marisa taught us.
Des Coroy
closed $24,000 in worth of business, out of that clarity
"The first whole half of the course was helping me get crystal clear about who my ideal client was, and what their needs and desires are. Within two weeks, I had closed $24,000 in worth of business, out of that clarity and out of talking to the right people."
Ed Oakley

I made more than €20.000 ($23,125) in exactly 8.5 weeks
"A few weeks before this program started I set my intent that I would like to take my business to the next level. I've already written 3 best selling books, online programs and sold beautiful feng shui paintings to start up businesses. But something was missing, because I felt that I would like to work on a more personal and intense level.
After 10 weeks in EPM I can say WOW BAM AMAZING! I made more than €20.000 ($23,125) in exactly 8.5 weeks (and the campaign is not over yet!)
Jasmine Kettenbach

projecting $50,000 in revenue across all 4 cities within the next 4 months.
With the team's help I put together The 5 Generosity Seasons Masterclass and have rolled it out in my first city, soon to be 3 more in the next 90 days.
We saw a 50% conversion rate in our first city (making $23,000) and I am projecting $50,000 in revenue across all 4 cities within the next 4 months. And these are my four beta groups where we will learn together!"
Patrick Johnson

Plus I made $2,955!"
Joining EPM was the best business decision I have made. Before EPM I did not have a system or a marketing plan, which had been holding me back and stopping my success for years.
I started with a skeleton business framework and EPM put the skin on my business by giving me a workable system with resources, a promotion and marketing strategy I can identify with and feel good about, and the knowledge to price my programs to create a "win-win" opportunity for everyone. Plus I made $2,955!"
Njideka Olatunde

During EPM, I sold 3 units at $997 with the ChatterBox Campaign
EPM allowed me to string everything I had done together into one continuous piece. From the types of bonus, to the campaigns, to the nuances of the communication - it all came together.
During EPM, I sold 3 units at $997 with the ChatterBox Campaign. I am gearing up for launches throughout the year and I have so many more events lined up now that the structure is in place.
Dr. Sundardas Annamalay

I have 8 people in my program and I earned $4,135.
EPM has given me my first perfectly imperfect program. It has given me a process to follow but more importantly, the confidence in myself to say I've done it. This is my first of many. I feel successful and doing EPM has been a defining moment for me.
I have 8 people in my program and I earned $4,135. Not bad! And I didn't even have a sales page. I feel so confident now I can do it again. I feel like I am finally in the game rather than dithering around on the side lines."
Michelle Taylor
I made about $2,500 on my first program
"Anybody who's considering EPM should totally do it. You're gonna be surprised by how much you're going to get done during this program because when you do each piece of homework -- it's not just busy work -- you're working on your business. If you just follow the instructions, do the work and engage with it you will create something. At the end of it you will find yourself with tangible pieces you can use in your business."
"I made about $2,500 on my first program so I made my investment back, and it went GREAT! It was really fun to deliver, people loved it! And now I have an evergreen bonus I can offer to my private coaching clients"
Robyn Landis
I made $8,000 during the 8 weeks of EPM
"EPM really sparked me into being back in my business with two feet in a way that I hadn't realized I had been slagging a little bit."
"I made $8,000 during the 8 weeks of EPM and then a week or so following the end of the course, $4,000 more came in for a total of 12,000 from my EPM product."
Michelle Bongiorno

Mission Accomplished ???? $13,000?
Celebrating surpassing my target goal of $8,000 by reaching $10,000?? 2 new private 4 months clients. Using the conversations and trainings and the group has not launched yet ???????? So much to work in going through the Extraordinary program.
Elaine Gibson

TOTAL SALES, $9,250 - WOOWOWOWOOW
I believe that Marisa has discovered the secret sauce and I'm SO glad she's shared it with us. Here are my numbers...
A. 53 people enrolled in the level one of the course yielding: $4,553 in sales.
B. Two people enrolled at level two, yielding: $4,697 in sales
TOTAL SALES, $9,250 - WOOWOWOWOOW
D'vorah Lansky

I manifested my first $1000 package client!
SO. Mission Accomplish-ing. In Progress. Status: Hell Yeah, I've got this! This program has been a total jam!
Out of all of the training calls, coaching calls, and laser coaching calls, I have only missed one! And I have gained confidence, so much so that I manifested my first $1000 package client!
Ashby Underwood

can't believe I can say that I had a $6,000 launch!!
The Experience Product Masterclass is hands down THE BEST PROGRAM on the market! I was hooked from the first XP point I earned.
I can't believe I can say that I had a $6,000 launch!! That has boosted my belief (and confidence) in my business and myself that I can truly build a business that will not only sustain me but position me to build a 6 to 7-figures business.
Carol Walsh

Mission accomplished: 83,500 so far
Chatterboxing to Beyond Mission goals Sometimes you do it, sometimes they do it. Mission accomplished: 83,500 so far (Client#1 - $53,500, Client#2 -$30,000)
My web page is not ready, my emails are messy, time is of the essence in everything I do, my contract is simple and straightforward... I am so a work in progress.
Joyce Dias

$21,000 already and I'm really hoping to crack the $100k or more
I've done the webinar and sales are rolling in with 7 more days till cart closes. $21,000 already and I'm really hoping to crack the $100k or more in the next 7 days. Wish me luck
Annie Murray
I made $3,900 during the program, and I've only just started!
When I heard about the Experience Product Masterclass, I instantly knew this class was for me. It spoke to all my concerns and desires for wanting to create something that was really meaningful and impactful.
This program is beyond any program I have ever taken. I have learned so much, and YES I reached and surpassed my goal! I made $3,900 during the program, and I've only just started!
Kat Kim

December cash in the door of over $30,000
Celebrating a major win: I have officially closed the doors of my Jan-June 2019 program launch with a total contract value of $160,000+ and December cash in the door of over $30,000!
It was my intention to use EPM to "iterate my way to awesome" in this relatively new 6-month group coaching program (first launched Jan 2018 - this will be my 3rd round), and I can honestly say that the training I've received in EPM so far - especially crafting a renewal program that re-enrolled 2/3 of my current group - greatly informed my positioning, messaging and sales of the new program.
Deborah N Hurwitz